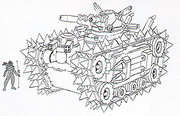 The Giant Tank (巨大タンク) is a scrapped enemy character from Strider 2. It was probably a planned enemy for the 2nd stage, Fortress Wahnen. The Giant Tank was a 2-phase enemy, probably a boss, but was scrapped because its polygonal model would have been difficult to create.[1]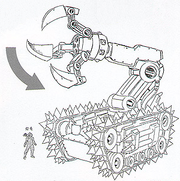 The Giant Tank was a massive and heavily-armed tank, having a turret gun with several different batteries placed all around it, as well as two missile launchers installed in the front and massive tank treads with huge spikes lining them. In its 2nd phase, the top of the tank would have blown up and a huge mechanical claw would emerge from the remains of the tank to continue fighting. It is noted the giant claw is actually bigger than the place it comes out of[1]. The text names this giant claw the Giant Magic Hand (巨大なマジックハンド).
The Giant Tank bears some slight similarities to the T-54 armored vehicle, specially in their use of spikes.
References
[
]