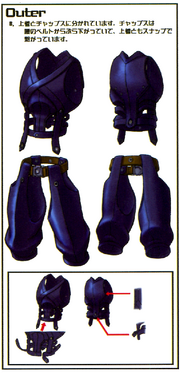 The Hard rubber armor (硬質ゴム製アーマー)[1] is a piece of equipment introduced in the 2014 Strider.
A protective gear used by the Striders, this armor is made of a hard, durable material[2], created specifically for combat[3]. It forms part of the Striders' uniform alongside a wetsuit made of similar materials, formed by a sleeveless tanktop and tights with a "wire grid" pattern[4]. The full uniform is meant for long-term missions, since its durable enough to withstand them better than uniforms made of cloth.[2][3]
The rubber armor set consists of two pieces: a chest piece and a set of chaps covering the thighs, connected together at the waist by a number of small belts[4]. The armor was designed to allow for better mobility[3], being lightweight and flexible enough to not interfere with a Strider's movements while still retaining its durability.
Hiryu wears a dark blue colored armor. Other Striders are known to use a variety of different colors, possibly by choice.
Gallery
[
]
References
[
]