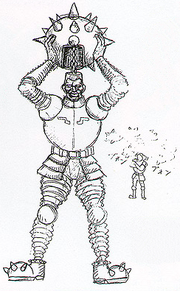 Codename: "Iron Ball the Great" (コードネーム'鉄球大王') is a scrapped enemy character from Strider 2, designed by Masanori Kondo and part of the "Kondo Troops", a term the staff used to refer to a number of enemies he created that were rejected because their outlandish designs didn't mesh well with the game's world view[1]. It's assumed he was planned to appear in the 2nd stage, Fortress Wahnen.
Iron Ball the Great appears as a tall, stern-looking soldier clad in armor similar to the Armored Guards, and with a large, spiked ball serving as his helmet. The helmet was chained to the back of his armor, allowing him to attack by spinning it around like a flail. His method of attack consisted of standing in place swinging his mace-helmet and stopping at times due to dizziness[1], probably to give the player a chance to counterattack.
The enemy is described as the leader of a shadow unit called the "Iron Ball Corps" (鉄球軍団)[1], possibly a planned special unit within the fortress's army using similar maces. There's one enemy in the released game who shares his weapon and tactics, the Iron Ball Guardian. He is perhaps the evolution of this conceptual enemy or one of the intended members of his special unit.
References
[
]