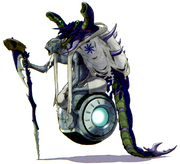 Juroung's Follower (ジュロング信者) is a scrapped enemy from the 2014 Strider[1]. This enemy was intended to be a fanatic believer of Juroung, possibly a part of the implied cult Juroung created around the image of Grandmaster Meio.
Juroung's Follower appears in the form of an emaciated bald man with blue skin, wearing only white pants and rags, sitting on what appears to be a miniature Gravitron. He has what appears to be a large insect similar to a Millipede hung on his back, with some sort of appendage coming out of its mouth attached to the back of the man's neck. He's also seen holding a cane-like object on his hand with two sharp ends and two openings on its top.
Concept art shows several possible attack methods: the cane's sharp edges on both ends would be able to stand straight forward, and he was also able to release flies from the cane's top. The large insect on his back was capable of releasing a mist from two tubes located on it as well.
It is unknown if this enemy was intended as a generic stage grunt or if he was an unique mid-boss character. It was likely intended to appear on the East Wing of the Buried Temple, which in-story is stated to be under Juroung's jurisdiction.
References
[
]
↑ Capcom (February 22, 2014). Strider Hiryu Visual Chronicle (Japanese). Pg. 71