Milsoma is a robot mid-boss enemy featured in all versions of Strider II.
Information
[
]
Milsoma is a "missile firing machine" with a tank-like appearance, moving on threaded wheels. It sports a camera-like "head" with extended scopes and one large "arm"-like missile launcher.
Milsoma only appears in the Amiga and Atari-ST versions of Strider II. In this version it's an unique stage enemy only found at the top floor of the airship in the middle of The Forbidden Forest. Milsoma simply moves back and forth and shoots once Hinjo is in his line of sight. As it stands in an optional dead end with no item to pick-up, it can be completely ignored.
In the Mega Drive port Milsoma was upgraded into a mid-boss, now blocking Hinjo's path in the middle of the airship section. In this version Milsoma remains in place as it shoots missiles at three different heights, either high above (must be crouched), at the middle of the screen (must be destroyed) or low to the ground (must be jumped over). Milsoma has no apparent pattern and just shoots missiles at random heights, forcing the player to dodge them and attack at the same time. Quickly closing in and mashing attack can effectively render it harmless, since all missiles come out of its "arm" at middle height.
Milsoma appears again in the boss rush added to the final stage, using the same strategy.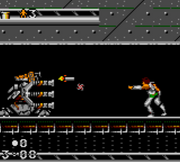 His sprite is altered for the Master System and Game Gear ports, now sporting a branching three-way cannon instead of one "arm" from where it shoots missiles. Its pattern is the same, shooting missiles randomly at Hinjo at different heights, but he now sports the same end-of-battle hazard used by Mecha Pon: upon its destruction the ground lits up in flames for a short moment, forcing the player to jump and hang from the ceiling in order to avoid an instant death.
References
[
]