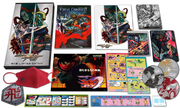 Strider Hiryu Special-A Class Limited Edition
(
ストライダー飛竜 特A級 LIMITED EDITION
) is a special Japanese exclusive limited release set of the PlayStation 3 version of
Strider (2014)
, sold exclusively through the "e-Capcom" online shop, to be released at the same date as the game's PlayStation 3/4 version in February 22.
This limited edition set includes several bonus content from the entire series, including a series-encompassing artbook, soundtracks and other goods.
The physical PlayStation 3 version of the 2014 Strider, including all its extras: a custom "Strider" PS3 theme, a special video interview with the first game's director Kouichi Yotsui, and download codes for the "Game Archives" version of Strider Hiryu 1&2.
"Special Box" - a storage box with cover artwork done by veteran Mega Man artist Ryuji Higurashi.
"Strider Hiryu Visual Chronicle" - An 80-pages artwork compilation including art pieces from Strider, Strider 2 and the new Strider, as well as unpublished material from the cancelled Famicom Strider. The cover art is done by the Capcom artist known as "Tamio" (

たみお

).
"Strider Hiryu Sound Chronicle" - A 3-CD soundtrack compilation of all three Strider games. The soundtrack for the first Strider includes the full fixed soundtrack extracted from the "Resale Version" (

再販版

) sound board, plus an unused track ("4Stage Start 3") from the Arcade and a bonus track with music from the Sharp X68000 port of the game. Cover art done by Tamio.
"Instruction Card & Sticker Set" - The stickers and instruction material used in the Arcade cabinets for the first Strider and Strider 2.
"Pocket Spread Clear File" - Includes the Special Box and Visual Chronicle cover artworks.
"Mask" - A crimson Hiryu-like facemask with the "Hi" kanji sewed on its side.
"Badge" - The chest badge with the red "Hi" kanji seen in Hiryu's new design. It comes with a letter from the game's art director, Sho Sakai.
"Spacer"
External Links
Edit
Community content is available under
CC-BY-SA
unless otherwise noted.