A multiplayer sequel project to the original Strider was briefly discussed in the "Capcom Legends" section of their official website as part of an article on the Strider series as a whole[1]. The article described one of many scrapped sequel projects considered internally at Capcom during the early Nineties.
Plans for a sequel to Strider were brought up many times at Capcom during the early Nineties, but the fighting game boom initated in 1991 by Street Fighter II would finally put an end to these plans[1]. Among them one specific project sought to develop a multiplayer sequel to Strider that'd allow multiple simultaneous play through linking Arcade machines together. In order to do this it would have used the cabinets from an special variation of Street Fighter II known as "The Tournament Battle".[1]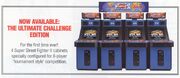 Super Street Fighter II: The Tournament Battle
is a Japanese-exclusive variation of
Super Street Fighter II: The New Challengers
released in 1993. This special version allowed up to 8 players to play a single-eliminations tournament simultaneously through four linked cabinets. Two players per cabinet would fight a single-round battle, with the game displaying brackets and showing the winner which position/cabinet he needed to move next.
[2]
While no specifics were given about how a multiplayer Strider would have worked, it is presumably similar to how The Tournament Battle functioned. In the end The Tournament Battle wasn't successful for Capcom[2] so it may have factored into why the project didn't move forward.
Ichirō Mihara's 1992 concept
Edit
On September 2020 former Capcom producer Ichirō Mihara shared on Twitter a page from his "ideas notebook" showing quick doodles for a Strider game, referred to as "True Hiryu" (真飛竜). He did these doodles around November 1992 and planned on developing it for Sega's "Super Mega Drive" (the console that'd later become the Sega Saturn, according to him). He also thinks he consulted with Masahiko Kurokawa around that time as well.[3]
The doodles in question detail several simple ideas for gameplay, including moving circular platforms, a seesaw to go over obstacles and a spiked beartrap-type hazard.
References
Edit
Community content is available under
CC-BY-SA
unless otherwise noted.